By Joshua Adams
The crowd applauds as the next poet steps to the microphone. Courage is common here, because it takes a lot to share your personal truths with a room full of eyes. But Tom Earl is a pro at this by now. He introduces himself to the audience, telling them how blessed he is to be here. Coaxing any straggling dreadlocks to the side, he closes his eyes and takes a deep breath to collect himself. A pause lingers briefly, and then he speaks: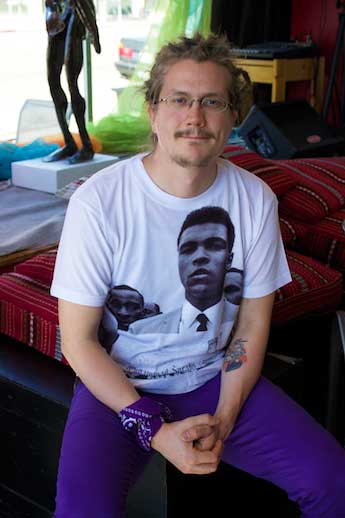 "We empower youth and give them the skills and opportunities to
express themselves, and a chance to see all those things
come together to manifest in their life."
Maybe if we started to empower rather then demoralize
If instead of institutionalize, we started to educate
If instead of speaking at, we actually started listening to
What our youth have to say and what they are going through,
Maybe then I can find it in my heart to forgive,
And we can find ourselves in a world,
Where with each new generation it becomes easier,
Rather than more difficult,
To be young.
Tom Earl is in the healing business. But instead of stethoscopes or prescriptive medication, he soothes with metaphors and similes. Earl has hosted open mic events around Los Angeles, providing platforms for youth to express their emotions through spoken word and music.
"There isn't a lot of places where young people can just be young," says the poet, musician, and activist. "Kids need to release those bottled up emotions in a constructive way. And it's not an 'art' issue, it's a public health issue."
Mental health is what Earl is mostly referring to. Though crime rates in Los Angeles have plummeted to historic low, approximately 300,000 children still grow up in neighborhoods scarred by gang violence. These "hot zones of gang violence" are in many parts of the city, some of the worst of which are along the 110 highway corridor. A fifth of these kids have depression, and third suffer from have PSTD (Post Traumatic Stress Disorder), a mental condition sparked from witnessing traumatic events like violence. Without an outlet, the level of stress these kids suppress can be toxic.
"There's studies that even show that kids who live in inner cities areas like south central LA have more PTSD than soldiers," Earl. "So how are they going to express themselves? Through math?"
Spoken word, like music, dance, or other art, can be a vital form of therapy; a canvas for catharsis on both conscious and subconscious levels. Gripping the pen can help kids grapple the emotional confusion they feel on a daily basis.
"The ability to communicate is so important," he says. "You start connecting the dots in you're head. Your brain goes to this space, and you calm down."
He's helping young Angelinos now, but Earl grew up in Waterford, Wisconsin. Where he's from, most people have never left this small town. But playing with the Waukesha Warhawks, a traveling hockey team, gave him the opportunity to see the rest of the Midwest. On the road was where Earl's world expanded. He later went to college, and studied Africology at the University of Wisconsin–Milwaukee.
In 2010, Earl became involved in youth development work. He got a job serving as an AmeriCorp VISTA (Volunteer in Service to America) at a non-profit called Community Tampa Bay. So he packed his 2002 Saturn to the brim and drove down to Florida. Earl mentored high-school students, hoping to achieve his goal of ending all forms of discrimination through cross-cultural interaction and dialogue. Earl has a "mold em' while they're young" philosophy.
"We always tell kids that they are the leaders of the future, not today," he says. "But they can be leaders now, and these safe spaces allow them to not only hear that, but see that for themselves."
All VISTAs received the income of the community they serve in. For next 2 years Earl lived off of nine thousand dollars for sixty hours of work per week. For many people, but for Earl, it was chance to walk in the shoes of the thousands of families living in poverty across the U.S.
"That's really where I got my foundation for anti-discrimination," he said.
While there, Earl weaved his love for poetry into youth expression workshops. He performed at middle schools, alternative high schools, and juvenile detention centers. Earl helped students channel their energy (good or bad) into creativity. Besides it's therapeutic nature, Earl sees how working on a craft empowers youth in the classroom setting and eventually in the work force.
"You get so much more out of arts education than the art you make," says Earl. "Discipline, teamwork, communication, setting goals and following through, rough draft, final draft speech, confidence."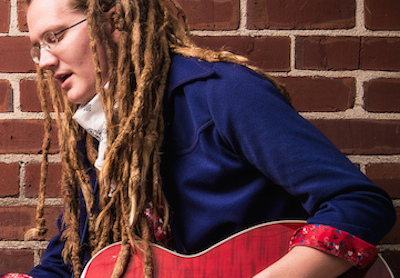 Click image to find out more about Tom Earl's art and his activism work
In August of 2013, Earl got back in his Saturn and journeyed all the way to Los Angeles to work for an organization called Youth Build. Youth Build's mission is to "empower underserved young adults to rebuild their lives and communities through leadership, education and technical training". Located in Lennox, the organization served students from Englewood, Hawthorne Heights, and Compton.
Earl now works at the Museum of Tolerance. Every few weeks he hosts a youth open mic with Muslim for Progressive Values. The open mic is a safe space to advocate for LGBTQ and women's rights leadership within Islam.
The majority of the youth who attend are not Muslim, but Earl seizes the opportunity to foster a communal sense of inclusion. During each open mic event, he asks the audience if this is the most amount of Muslim people that they've ever been around. There's no surprise when a multitude of hands reluctantly rise in staggering order.
"And that's other part of it, to provide a face, " he says. "I can give you statistics about any form of discrimination, but actually interacting with someone from that identity does more than anything I ever could by myself."
Earl's sweetest reward is when youth recognize the clerical power of words. Every now and then, students come up to him to say that what he said changed the way they view the world. Nothing is more gratifying to the man who speaks in poetry, hoping he can do his part to make it easier, rather than more difficult, to be young.