Doumees: Koreatown's underground service after dark
People, both male and female, can pay for an escort-like service called Doumee in Koreatown. Doumees can earn well over $1,000 in one night, by partying or spending quality time in Koreatown's bars, karaokes and cafes.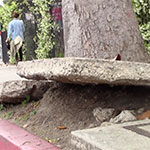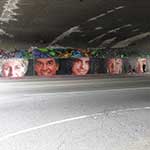 When work started to slowdown for freelance artist Dave Chimo, he decided to turn his garage into a small studio and list it on Airbnb.com as a short-term rental in order to help supplement his income.
While residents like Chimo are making money by renting out their homes, what they are doing is apparently illegal in Los Angeles.
"Short-term rentals are prohibited in agricultural zone; the R1 and other single-family residential zones; the R2, RD and R3 lower-density multi-family residential zones; and the RAS3 residential accessory service zone," according to an Executive Office memo posted on the City of Los Angeles Planning Department's website by Deputy Director of Planning Alan Bell.
CLICK HERE THE VIEW THE L.A. SHORT-TERM RENTAL MEMO
"While this definition typically applies to hotels or motels, it also applies to any other residential building (including one-family dwellings) that are designed or use for occupancy of 30 or fewer days," the memo states.
Katherine Peterson, a City of Los Angeles Planning Department associate said that the memo is to help residents interpret the long and difficult to read zoning code, which was established in 1972.
CLICK HERE TO VIEW THE CITY OF LOS ANGELES DEPARTMENT OF CITY PLANNING'S ENTIRE ZONING CODE.
"A lot of people are not actually aware of the rules, like a lot of people didn't realize that renting out a room in there house would be a violation of the zoning code," Peterson said.
According to Peterson, the planning department was prompted to publish the memo upon carefully reviewing preexisting zoning code rules due to homeowners raising questions during neighborhood council meetings as to why renting out their home would be illegal.
Startup companies like Airbnb however allow individuals, also known as "hosts," to rent out their homes.
For instance, Chimo rents out his fully furnished 150-square-foot studio room for $495 a week online.
Inforgraphic:The Progession of Airbnb
The Los Angeles resident lives near Silver Lake in a community called Atwater Village where Chimo says he typically rents his place out to potential homeowners looking to move to the area or to individuals in need of a spot to stay while they visit nearby family members.
"I think that one of the reasons this has worked out so well for us over the past year in and a half is that this location is unique because if you want to be in Atwater Village there really are no hotel options," Chimo said.
The host believes that there are no downsides to Airbnb and instead suggests that the community is benefiting from vacationers supporting local businesses during their stay.
Airbnb user Peter Lannon on why he prefers staying in short-term rentals over hotels.


According to Carl Winston, director of San Diego State University's L. Robert Payne School of Hospitality and Tourism Management Program, Director Carl Winston, he says that unlike hotels, Airbnb rentals do not pay transient occupancy tax.
"The government hasn't found a way to tax Airbnb people yet, but they will and when they do it's going to make it a major pain in the butt for both the Airbnb seller and Airbnb itself," Winston said.
Anne-Marie Johnson, co-chair of the Silver Lake Neighborhood Council and at-large representative, and Scott Plante, Silver Lake Neighborhood Council at-large secretary, estimate about 90 percent of Los Angeles rental properties on sites such as Airbnb listed for less than a 30 day stay is illegal.
"We were able to successfully put pressure on the Planning Department of Los Angeles to draft a frequently asked question sheet, a memo, and have that published throughout L.A. County stating clearly in black and white that R1 and R2, which Silver Lake is, and a majority of communities in Los Angeles…that the use of your home or dwelling for rent of 30 days or less is illegal, there is no guess work to that," Johnson said.
In Silver Lake alone, the neighborhood council members claim hundreds of residents use the short-term rental site to post their homes, apartments, units, duplexes and triplexes.
At the top of Johnson and Plante's list of concerns is how Airbnb and other similar sites do not offer background checks on potential renters.
As a former landlord who ran background checks on potential tenants, Johnson is surprised that sites like Airbnb do not require hosts to do the same prior to handing over their house keys to renters.
Plante, who is also the Silver Lake Neighborhood Council Urban Design and Preservation Advisory Committee chair, believes that turning residential areas into vacation hot spots create ghost communities.
The Silver Lake representatives also condemn the company for encouraging hosts to illegally run tax-free commercial businesses out of their residential homes where they say individuals are able to make upwards of $100,000 a year.