The Ninth District takes action to remedy years of neglect
Curren Price stood in a South L.A. restaurant parking lot last February among a crowd of local residents, donned a fluorescent yellow vest, and addressed the crowd: "This epitomizes the spirit we want to see in The New Ninth. Our community can change, but we all have to be involved."
Then the councilman for South L.A.'s District 9, the poorest in the city, grabbed a pair of garden gloves, a rake and headed down the block.
Instead of spending this morning in City Hall chambers, Price spent it on the street, working alongside local officials, community groups and residents for the decidedly unglamorous task of clearing litter from the sidewalks, gutters and alleyways.
The District 9 office has led these community cleanups once a month since Price took office in July. Price hopes to demonstrate his commitment to improving basic quality of life issues, such as street cleanliness, while showing the value of civic participation.
On this day, a few dozen people showed up to the cleanup's starting point at La Carreta restaurant at Compton and Vernon Avenues. They were high schoolers getting community service credit, parents with their kids, and members of the Newton Division Community Police Relations Board.
Gilbert Radillo, who works at South LA nonprofit A Place Called Home and serves on the C-PAB, said the cleanup's purpose would reach beyond just beautifying the streets.
This particular zone was chosen for its high rate of petty theft. Radillo said there tends to be a correlation between that kind of crime and areas dirty and littered.
"We've identified it's been ridden with trash and it's been ridden with crime," said Radillo.
"We're doing a lot of things today with a simple cleanup," he concluded.
And a lot of those things began with the tedious job of plucking litter from the street.
In some spots the dozens of bottle caps and candy bar wrappers and newspaper clippings seemed permanently fused with the cement sidewalk. In other spots piles of dirt and dead leaves just swirled into the dry air when prodded with a broom, making the sweeper cough. Even though it was only 9 a.m., the sun glared down on the street, which had no shady trees.
Cristina Parra, a local resident who brought along her two kids, showed tremendous resolve as she carefully considered each block of cement and the gutters too.
She hoped for Savina, 11, and Mario, 8, to clean up so they could understand the importance of taking care of one's own community. Moreover, she said she wanted the neighborhood to be clean and healthy for young children.
Participants at a clean-up the following month echoed her sentiment.
"Cleaning the streets is the first step to bringing peace into the neighborhood," said Sergio Juarez, a pastor. If a place looks clean, criminals would have a sense that residents were united against crime.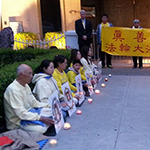 Falun Gong followers protest violence in China
More than 250 followers of Falun Gong gathered Friday night at the Chinese Embassy to protest violence against its followers. Some of them say they were prosecuted, imprisoned and tortured in China for their beliefs.
Julia Cristobal who was cleaning alongside Juarez said she participated to set a good example for her children and young relatives.
Speaking in Spanish, she said, "It's to show them that they have to do the same thing when they grow up, like having discipline and respecting people."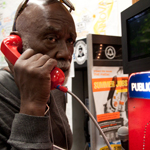 Ben Caldwell envisions a new Kaos Network for a new Leimert Park
Ben Caldwell, the creator of Kaos Network, says he is all set for Leimert Park's new renaissance. The filmmaker, community activist and documentarian who has been at Leimert for the last 30 years, plans to focus more on his first love – filmmaking – in the future. This is an in-depth profile of the man who is fondly called by many as "the father of Leimert Park."
Price said showing his office's own "consistency" could help. "People want to see government that's responsive and will work in collaboration with other groups."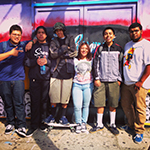 A new Pico-Union with promise for teenagers
Pico-Union is one of the most populated neighborhoods in Los Angeles with a large number of young people residing there. Poverty and the lack of social resources have troubled the teenagers in the neighborhood for years. But recently, a change has come to the community: some young people have brought their non-profit programs to the neighbourhood to help their peers.
It's that kind of sense of ownership that Price said he hoped to help residents build up. But how?
His communications manager Connie Llanos added, "Sometimes it's just changing the mindset. That's why we call it the "New Ninth."
Meanwhile, many residents in this neighborhood have bigger worries than the chip bags and empty cigarette packs lining their lawns. Oftentimes mothers and fathers work two jobs and come home late at night, exhausted. On the weekends, if they're not still working, they just want to relax and catch up with their family.
Thanks in part to a push from Price and councilman Gil Cedillo, the city appears to have noticed that greater help is needed. In late April, City Hall approved a motion to create a plan that would allocate extra trash clean up funds to especially needy areas. The areas would be chosen based on data in a program modeled after the LAPD's statistics analysis program, called COMPSTAT.
Price's office has already made great strides working alone. Since July, it has collected more than 100,000 tons of trash and cleaned dozens of long-neglected alleys packed with trash at times in piles up to 8 feet high. The campaign, called "Keep It Clean," cost the office more than $500,000 in special funds. And contributions from the Bureau of Sanitation roughly cost $1.2 million.
If the new city-wide plan goes through, Price may be able to shift his focus to other South L.A. issues, like affordable housing and healthy food access. But he said he will keep walking the streets at the annual monthly cleanups.