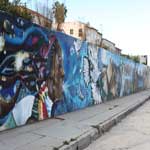 The Great Wall of Crenshaw
The Crenshaw mural has been a piece of history and African American progress since 2000. Supporters are looking to raise funds to declare the area a monument in South LA.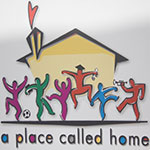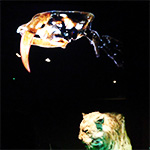 Prehistoric Puppeteer Adventures
Puppeteers at the Natural History Museum and the La Brea Museum at the Tar Pits slip into new roles as prehistoric creatures to combine the power of imagination, wonder and education.
By Sean Burch
New homeowners are looking beyond Venice Beach, Hollywood and Silver Lake when it comes to finding a trendy place to live in LA.
Many parts of South Los Angeles – and in particular the neighborhoods surrounding the USC campus and West Adams Avenue – have received renewed interest from buyers for several reasons.
"First of all, It's the affordability…they're buying a house that on the West Side would be over a million dollars, and they're getting it in West Adams for half of that," said Tim Braseth, a professional home restorer who focuses on South LA.
The divide might be even more glaring than Braseth lets on. According to Redfin, a real estate website, the median home price for a home on the West Side is more than $1.1 million, compared to $450,000 for the zip codes near USC.
Despite the apparent bargain, home prices in South LA have jumped nearly 41 percent in the past year according to DataQuick, a San Diego research firm.
Kelly Tap, a realtor with Keller-Williams, said the sharp increase isn't surprising due to a simple case of supply and demand.
"The inventory is a lot lower, and the competition is causing a lot of buyers to pay more for the property than the list price," said Tap. "You find a lot of over-asking and multiple counters which kind of just makes the competition go crazy and drive the price up."
While the surge in home prices has been a blessing to owners, buyers and renters are feeling the heat. But for Tap, buying a home in West Adams is still a long term deal.
"it makes for a really great investment in the future," said Tap. "Even if you don't live in it, you can rent it out and the property value will go up."
Still, the increase in demand is due to more than just relative affordability.
Many of the homes in West Adams were built in the early 20th century, and the neighborhood's Victorian-themed houses and Craftsman bungalows quickly attracted several Silent Film Era stars.
Today the homes bring a certain charm and nostalgia that buyers cannot find for a reasonable price in other parts of Los Angeles.
"The sophisiticated first-time buyers, who appreciate design, love the vintage aspect of these homes," said Braseth. "My buyers love these old Craftsman and Spanish homes…they're built with a quality that you just don't see in newer or post-war homes."
But don't take "vintage" to be a euphemism for homes that are old and run-down. Braseth has helped restore fifteen homes in South LA over the last year, but has been impressed with the preservation of both the properties and the neighborhood.
"There's a great pride of ownership in West Adams. You don't see graffiti they way you used to," said Braseth. "The homes – whether or not they're updated -- are neat and tidy, and the neighborhoods are clean and well kept."
Besides the affordable and fashionable real estate, a major draw for young professionals to South LA has been the expansion in public transit.
The Expo Line connects the neighborhood to Downtown LA, Mid-City and Culver City, with stops in Santa Monica planned for 2015.
"when you add it up, [Living in South LA] makes a lot of sense for someone like me, compared with renting an expensive apartment in Downtown or near the beach," said Eric Haller, 24, who is looking for a place for himself and his girlfriend.
A recent graduate of Cal-State Fullerton, Haller is like many other workers in Downtown who are drawn to West Adams because of its easy accessibility.
Yet, even with the myriad of attractive facets the neighborhood has to offer, South LA still carries the baggage of being synonymous with violence, whether fair or not.
Although per capita crime was lower, West Adams had 96 violent crimes reported in the past six months, compared with only 15 on the West Side, according to the Los Angeles Times.
The negative connotation associated with West Adams and the neighborhoods surrounding USC is beginning to dwindle, though, as crime rates continue a three-decade decline.
To Tap, Braseth and numerous home buyers, the positives outweigh the negatives and lead them to believe the neighborhood is still trending upward.