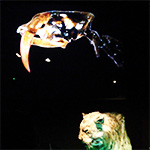 Prehistoric Puppeteer Adventures
Puppeteers at the Natural History Museum and the La Brea Museum at the Tar Pits slip into new roles as prehistoric creatures to combine the power of imagination, wonder and education.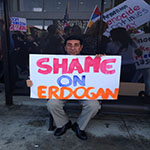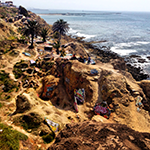 The Sunken City: San Pedro's Atlantis
Locals call it the Sunken City: A part of Point Fermin that literally slid into the ocean in the 1920s. What remains today are housing foundations, railroad tracks and amazing street art.
By Andy Vasoyan
Where do all these arbitrary "today is now national ______ day" declarations come from, anyway?
They're not official government declarations; usually some group of people just bands together to get some sponsors and declares it a holiday. As of the week of this being published, some similar such days are Fatigue Syndrome Day, International Nurses Day, Limerick Day, and of course Mother's Day, though not even that day of maternal celebration is actually recognized by the government.
It might not come as a surprise then that the third Saturday of April has been declared Record Store Day since 2007, which has both catalyzed and capitalized on the revival of vinyl records as a listening medium.
That revival in vinyl record sales has lead to music stores being able to sustain themselves more readily than in the days when the huge CD stores eventually collapsed. The largest record store in Los Angeles, Amoeba Music, has been around since the early 2000's, but smaller record stores have popped up, or endured, all over the city, not just in Hollywood.
It's no coincidence that Echo Park is reaping a large part of that benefit; Origami Vinyl on Sunset, a few miles down from the Sunset Junction, is something of a legend in the local music scene.
It's next to the Echo and Echoplex, which house a production company that puts on shows across the city, as well as housing their numerous concert-going guests.
Taking Origami as the locus of the semi-big store, then, we can see that Mono Records, a used-record store about a mile north, and Lolipop Records, just under the overpass of Sunset, are one of many record stores that bloom in the rich soil near to music venues.
The effects of the record shops themselves are subjective, of course, but the customers at Origami hold it in high regard, an intimidating place that's almost too-cool for comfort.
Lolipop Records (one "l"), again, just below a urine-smelling stairway leading down from Sunset, is the opposite type of cool; the welcoming, we-have-no-fucks-to-give type of freewheeling that makes their attached recording studio more impressive, and the fact that they actually started as a record label and transitioned to a brick and mortar and spray-paint store even more impressive still.
Lolipop's not the place you'd go to pick up a new Kanye CD, though doubtless the culturally aware crowd would give you an earful on the merits of Yeezus vs. the College Dropout; the store is big into tapes now, and they're surviving on an odd mix of artist sales and physical medium sales, though their record store might be doing well enough to survive on its own.
That a record store could do well enough to survive on its own is an old trick for those few shops left standing south of the 10, out of the boot-heeled walks of Echo Park and Silverlake.
Off the 110, a few miles from USC, is Bombassmuzik, existing where it has been for 16 years, on a dilapidated street, but well kept inside. Sergio Urida, the store's proprietor, claims that he's been able to stay afloat because he started in the business young, and that let him adopt the store to the changing times.
Though stores like Origami have been able to adapt a second time, to a return to mainly being record stores, Urida's shop is going the opposite direction.
His store is full of paraphernalia, music and smoking related, mainly, but he also sells clothing related to the brand of his store, which he is trying to push as BAM!: a Lifestyle store.
The store inside is clean, around the same size as the Echo Park shops, but whereas Origami still had people out there door, at 4 pm, Bombass is desolate enough for me to get the shop to myself.
That difference in locales, and how big a difference that really is, is what we explore in our audio piece, where we take a deeper look into that old conundrum: location, location, location.