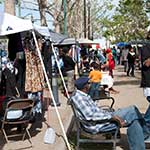 Reviving Leimert Park: The People Street Petition
Leimert Park is the African American cultural center of Los Angeles. Residents and community leaders are reviving the neighborhood and are petition the city to make 43rd and Degnan a people street.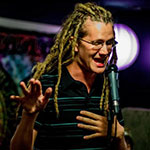 The point of the poetry
The recovering economy and partisan disagreement has left Congress with tough decisions on where to spend money. Funding to after-school programming was one of the first areas the government cut, leaving thousands of public school students without vital activities. But communities have galvanized to provide kids with free opportunities in arts programs, with outlets like spoken word. Reporter Joshua Adams talks to poet and social activist Tom Earl about his youth open mic, why arts education is important, and the point of the poetry. (Click on photo for full story)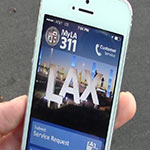 Los Angeles has big plans for 311
L.A. launched its very own 311 app one year ago, but Angelenos have been slow to adopt the new technology. Take a look at what the city is doing to change that.
Ben Caldwell stopped in the middle of crossing 43rd Street in Leimert Park on a warm and breezy afternoon in March. Something on the other side of the road had caught his attention.
Perhaps it was the colorful quilted skirts swaying in the breeze in a makeshift clothing store, one of the many stores setup during Leimert Park's monthly art walk. Perhaps it was the kids playing jump rope across the street. Perhaps it was one of the drummers tapping furiously in the drum circle by the fountain. Caldwell bent down, lunged forward, clicked a photograph and disappeared into the crowded street within seconds. He never leaves his home without his Canon DSLR camera whether he's going to a community meeting or attending a high-end innovation event at a private school or strolling across the streets of Leimert Park for the thousandth time.
"He documents everything knowing things will have more value in the future," his daughter Dara Mariamma Caldwell-Ross said. "The value is not just monetary, it's symbolic."
He captures the world around him from behind the camera, but moves so quickly and quietly that he's almost invisible. His faded old black t-shirt and loose jeans don't help him stand out either. But this low-profile artist is the tour de force of Leimert Park, a constant in this ever-changing community.
"He won't like it if I say this but he is like the father of Leimert Park," said Maria Elena Cruz, an artist and teacher.
It's hard to pin down all the things Caldwell's involved with. In the last 33 years, he's been a filmmaker, entrepreneur, ethnographer, documentarian and community activist. He calls himself an "octopus" with every tentacle working on a different assignment.
At this point, he's involved in planning for the future of Leimert Park in light of the Crenshaw/LAX metro construction, running the Leimert Park art walk, managing his for-profit community media lab "Kaos Network" and collaborating with the University of Southern California's communication school to create art installations out of old and discarded street objects like a public phone booth.
He organizes the world like a filmmaker by thinking of every project as a different scene he is directing, Caldwell-Ross said.
"It's as if he is living a life-film," she said. "His projects are a reflection of the world that he sees as a filmmaker. It comes from his soul."
Caldwell was exposed to films from a very early age because he spent a lot of time around his grandfather who was a projectionist at a theater.
"My life is like the movie Cinema Paradiso," Caldwell said, drawing parallels to the Italian film, which follows the journey of a six-year-old boy who grows up around a projectionist and goes on to become a famous filmmaker.
Since he was born just after the Second World War ended in 1945, he saw a lot of war films growing up. Then, as a 21-year-old, he went to fight the war in Vietnam in the 1960s. He felt a huge disconnect between what he experienced in the war and what he saw in films as a child.
"War films made war seem nice," he said. "War is NOT nice. War is the lowest human level that you can get to and I wanted to document that."
So he started capturing what he saw.
"My first stills were taken in Vietnam," he said. "Because this is like no movie I have ever seen. So I just went on click, click, click."
Photographing the war left a deep impression on him and laid the foundation for his future artwork.
After returning from Vietnam, he went to the Arizona State University on the GI Bill, a veteran benefits program that paid for his school. He enrolled to study painting and photography but a filmmaking class piqued his interest in the last year of college. He got accepted into the University of California Los Angeles film school's graduate program on a full scholarship.
He moved to Los Angeles in 1971, at a time when the city was undergoing transformation post the Watts riots. It was in UCLA, that he met his contemporaries - Charles Burnett, Julie Dash and Billy Woodberry – young black artists who teamed up to create independent black films as an alternative to Hollywood's black movies. Clyde Taylor, an African American cultural historian, called this group as the "L.A. Rebellion" when he curated a retrospective of their work at the Whitney museum, according to a blog post on the UCLA Film and Television archive.
"It ended up being a collective that we're still working with each other 40 years later," Caldwell said.
As a boy who grew up watching mainstream Hollywood movies, Caldwell wanted to work in Hollywood. And he tried. He interned at several production companies including Columbia Pictures while he was in UCLA before he realized there was too much racism in the industry.
Once, a student he was working with called him the N-word. Caldwell quit the project immediately.
"Hell no! I am not going to work with somebody who says that to me," he said.
The L.A. Rebellion gang collectively produced 22 feature and short films between 1971 and 1980. Caldwell worked on several films in different capacities – as a cinematographer, editor, writer etc.
"His films revolve around issues of spirituality… and his own kind of surrealism that connects to his understanding of ancient African culture and mythologies," said Billy Woodberry, one of his contemporaries from the L.A. Rebellion movement.
His notable works from the time were: "Medea," which explores the idea of what African-American identity means in today's context through the journey of a birth of a child; and "I and I," which was based on his memories from Vietnam.
Medea is about to make it to the archives of the Whitney museum, Caldwell said.
"His style is experimental, "said Woodberry. "He's not a straight narrative storytelling kind of filmmaker. He was the first person who was interested in video [as a medium], before video was even viable."
After spending around 8 years in UCLA and getting two master's degrees, he joined as a faculty member at the Howard University in Washington, D.C., where he taught radio, film, photography and video.
His student Wesley Grove, who studied video production with him and has been in touch with him for the last 30 years, calls him an innovator and visionary.
"He's probably the most influential guy in my life apart from my dad," he said.
One time, Grove was stuck with a video assignment and asked Caldwell for help with an editing glitch.
"Ben told me it kinda looked cool and asked me to keep it," Grove said. "Long before MTV introduced fast edits and editing glitches and made the whole thing seem cool, Ben was practicing it."
During this time, apart from teaching, he documented the blues and reggae music movement in the District. He followed famous musicians like Bob Marley, Peter Tosh, Willie Dixon, Sonny Terry, Brownie McGhee, B.B King, recorded videos of their performances and conducted interviews with them.
"Once I discovered that we were all same people but dropped in different parts of the world, I was wanting to see what corollaries were there between blues and reggae," he said. "You don't call them films or series. They were just documentation of a time period."
He plans to sell and share some of the footage to biographers, museums or documentarians. He's already exchanged some of his work about Bob Marley with reggae archivist Roger Steffens.
In 1984, after teaching at Howard University for four years, Caldwell moved to Leimert Park to spend more time with his daughter who was in Los Angeles with her mother.
He opened Kaos Network, a community media lab that has been hosting video and editing workshops and youth oriented programs in the neighborhood for three decades.
"I was teaching and working with the kids in the neighborhood to get an idea of who they were and what they were thinking," Caldwell said.
Project Blowed – an open mike workshop for young hip-hop artists, rappers and graffiti artists – was one of the biggest success projects that emerged out of Kaos. Many of the artists and groups like Aceyalone, Ava DuVernay, Abstract Rude and several others gained global popularity.
"He gave the kids in the community a platform to express themselves and directed them in a positive way who might not have otherwise had that opportunity," Grove said.
Tasha Hunter, one of the coordinators of the project who has known him for 19 years, said, Caldwell mentored the youth and asked them to dream big.
"He was a sort of father to a lot of people…just that other voice," she said.
Caldwell also served as a full-time faculty member at the California Institute of Arts for 15 years. Kaos Network served as an extension for his students from the institute, Woodberry said.
"There was something creative and generous about him that made students gravitate towards him," Woodberry said. "Students would find their way to Kaos Network."
Though Caldwell has worked on multiple film projects throughout his time at Leimert, all the community engagement and teaching activities hasn't left him with a lot of time to finish them. But perpetuating talent in the African-American community is something that had to be done, he said.
It's also one of the main reasons that make him unique and superlative as compared to other artists, Woodberry said.
"He's built an institution that gives creative life to the community," Woodberry said. "That's a big gift. No matter how much recognition he gets, it's not enough."
Caldwell has been in Leimert Park for three decades now. He has seen the neighborhood reach the peak of its glory in 1992 : Richard Fulton's Fifth Street Dick's Coffee House was the cauldron for African-American writers and poets; Jazz musician Billy Higgins' World Stage attracted the best music talent to the neighborhood; Michael Williams ran one of the most successful black comedy clubs. Higgins and Fulton passed away and Williams shut down his club, leaving behind three large shoes unfilled.
"They are one of a kind," Caldwell said. "The kind that can't be replaced."
But he says it's time for another renaissance for Leimert. The Crenshaw/LAX metro line slated to open in 2019 will put Leimert on the map by making it accessible.
"It's like expansion and contraction of the lungs," said Caldwell, comparing the peaks and troughs of Leimert. "Ebb and flow; that's life."
Now, finally, many of his projects like Project Blowed and the art walk have become self-sustaining and Caldwell wants to devote more time to filmmaking.
As he envisions a bold future for Leimert, he plans to completely transform Kaos. He plans to build two additional storeys, convert the ground floor into a café and lease it to a well-known café franchise like Panera Bread or Le Boulanger bakery. The top two floors will be a full-fledged studio for editing, casting actors and video production. He also wants to exhibit all his archival footage that he has shot at different places over the years.
"I want it to be a treasure chest that people can explore," he said.
His community projects and efforts will be divided between him and Marc Bradford, the world-famous African-American artist and Caldwell's close friend, who is building a big art gallery next door to Kaos Network.
"Kaos is like a petri dish, constantly changing, transforming, metamorphosing," he said. "I want to tell African-American stories that haven't been told yet. And there are plenty of those."