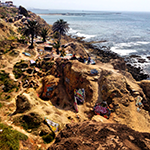 The Sunken City: San Pedro's Atlantis
Locals call it the Sunken City: A part of Point Fermin that literally slid into the ocean in the 1920s. What remains today are housing foundations, railroad tracks and amazing street art.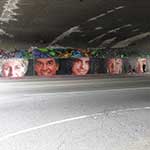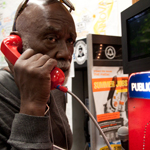 Ben Caldwell envisions a new Kaos Network for a new Leimert Park
Ben Caldwell, the creator of Kaos Network, says he is all set for Leimert Park's new renaissance. The filmmaker, community activist and documentarian who has been at Leimert for the last 30 years, plans to focus more on his first love – filmmaking – in the future. This is an in-depth profile of the man who is fondly called by many as "the father of Leimert Park."
By Yuan Feng
It was three o'clock on a Saturday in April, four hours before show time and already thousands of K-pop fans had flooded the grounds outside the Los Angeles Memorial Coliseum, where performances will be given from the South Korea's biggest pop groups—2PM, SHINee, CNBlue, INFINITE, Girl's Day and Sistar.
Outside the Coliseum, clusters of fans enacted dance covers: copies of their favorite groups' moves. People carried colorful light sticks and balloons, colors that signified allegiance to specific pop group.
Once the K-pop Festival began, screaming fans, mostly teenagers, sang along, waved fans adorned with band members' faces and stared in awe when supergroups like SHINee and Sistar took the stage.
I'm extremely excited about the concert because I got to see SHINee, which is my favorite group," said Daisie Guzman, a high school student from Riverside, Calif. SHINee is a boy band consisting of five members.
"I'm excited. I'm really excited because this is my first concert," said 16-year-old Brenda Ortiz, who became a K-pop fan recently.
Neither Guzman nor Ortiz are native Korean speakers, but that did not stop them, along with other K-pop fans, who came from all over the United States to see the L.A. K-pop Festival and enjoy Korean music, food, and fashion.
Breanna Martinez, 20, a Latina, came to the concert with her sister, who is also a big fan of K-pop. Martinez said she started listening to K-pop music in 2010. Language is not a barrier when you are listening to the music, she said.
"People listen to American music and it's in English and not everyone understands English," she said. "Music is music. You don't have to understand the lyrics."
Yohana Arrecon, 23, is a big K-pop fan and came from Zamora, Mexico just for the concert. She said K-pop is a good icebreaker for foreigners. " We can… communicate with the music," said Arrecon.
After the international breakthrough of Psy's "Gangnam Style" in 2012, Korean pop music or "K-pop" is booming on the global scale. However, K-pop was already flourishing before Psy.
K-pop is part of a broader trend known as the Korean Wave or "hallyu" in Korean. According to the Korean Tourism Organization, "hallyu" is the spread of South Korean pop culture, which has been integrated into China, Japan, Taiwan, Vietnam, Singapore and other Southeast Asian countries since the late 1990s. The Taiwanese were among the first to coin the phrase, as they noticed the invasion of Korean soap operas, also known as Korean Drama, in their television programming, the tourism organization said.
The Korean Wave has long drawn huge crowds in Asia, but before the proliferation of global social networks, it was difficult for K-pop stars to break into Western markets.
However, social media, such as YouTube, Facebook and Twitter, helped K-pop bands reach a wider audience in the West, and fans are turning to social networks to proclaim their devotion.
Fans who came to the L.A. K-pop festival said they found out about K-pop events mostly through social media, and learned about it initially through YouTube videos. K-pop video clips were viewed nearly 5.5 billion times in 2013, 90 percent of those views came from outside of Korea, said Matt Mclernon, the communication manager at YouTube.
In the year before "Gangnam Style," official music videos from K-pop artists were viewed over 2.2 billion times globally. The year following, that number more than tripled to about 7 billion views, Mclernon said.
K-pop now has its own channel on YouTube, and the videos by bands like 2NE1 have topped 90 million views.
The K-pop style is a fusion of synthesized music, video art, fashionable outfits and teasing sexuality mixed with innocence. Performances like Girl's Generation's "Gee " has repetitive choruses and synchronized dance routines that make it is easy for the audiences to get involved.
Girl's Generation, also known as SNSD, is a South Korean girl group organized by S.M. Entertainment. The group consists of nine members and debuted in 2007. The YouTube video of the group's popular song "Gee" had more than 56 million hits as of October 2011, Mclernon said.
The group beat Miley Cyrus, Justin Bieber, Lady Gaga, One Direction and many other candidates, to win the Video of the Year with "I Got a Boy" at the first YouTube Music Awards in 2013, said Mclernon.
"With the explosion of Psy, BigBang, and 2NE1 and all those Korean groups that you see out there, it has gone into [a] different market because of the Internet," said Peter Chun, the Marketing and Advertising director of YG Entertainment America, the U.S. branch of one of the "Big Three" entertainment companies in South Korea. "In the age of YouTube, you have the fans from all over the world. I think it's grown tremendously."
Girl group 2NE1 is under operation by YG Entertainment and consists four members. The group became famous after releasing the single "Lollipop," with boy group BigBang. Since then, 2NE1's international exposure, particularly in the U.S., has been growing, said Chun.
"I think the main reason is that the content [of Korean Music] is good. The image is colorful and the music is catchy. It has a very progressive emotional type of feel, " said Chun. "I think Korean music always has its addictive nature. Once people discover it, they can really get into it."
Chun also said right after 2NE1's episode of "The Bachelor" aired in the U.S. there was a huge increase in iTunes sales of 2NE1's newest single "I'm the Best." ("The Bachelor" is an American reality television dating show that debuted in 2002).
Mclernon said overseas fans of K-pop copy the group dances and upload the videos onto YouTube, which also promotes the rapid spread of K-pop music.
According to Miae Lew, the marketing coordinator of the Korean Tourism Organization, oversea record sales of some K-pop stars have increased because of the globalization of K-pop culture.
Operated by the Korean Government, the Korean Tourism Organization has played an active role in helping the culture industry grow. To promote K-pop culture worldwide, the organization established a Korean Pop Culture Museum in Los Angeles in 2013.
"The purpose of our organization is to promote Korean tourism and Korean culture," said Lew. "We are hoping to get people to be more aware of the country as what it is."
Lew said the spread of K-pop music videos on YouTube is just one reason for the increasing popularity of K-pop culture worldwide.
"Last year was the milestone for K-pop, because of Psy and many other artists on YouTube and also because Korean dramas, I think people have more interests and they want to find out more," said Lew.
The surging popularity of K-pop in the Pacific region, not only brought Korean musicians to the U.S., but there are dance schools, karaoke bars and clubs wholly dedicated to the light, sugary pop music.
Some Americans are also getting involved in K-pop as artists.
Aimee Lee Lucas was studying medicine and working at a doctor's office. However, her enthusiasm of K-pop led her to start the M.V.P., and eventually launch a career as a K-pop dancer as well as choreographer.
M.V.P. is short for Music Video Party, which offers K-pop dance class in L.A. where Lucas teaches people how to dance to current K-pop hits.
Sharing her passion of dance attracts large crowds in Southern California. Lucas said the idea of starting M.V.P. hit her after she directing a "Gangnam Style Flashmob"—a group of people who organized through social media to perform in a public place.
"I wanted to start something that was different, something new and I wanted to be in charge of K-pop fans," said Lucas.
And she says the students in her classes have become diverse as K-pop has become more popular.
"If you look at my classes, I would say 90 percent of them are not Korean. They love not just K-pop, but also love Korean culture, Korean food and dress like their Korean idols," she said. "It's really a crazy movement that not a lot of people are aware about."
Recently Lucas held the first M.V.P. class for 2014. Around thirty people attended the class.
"I like Asian culture and like to build on it. In general, I like it [K-pop culture] because it grows and expands in L.A.," said Kiki Smith, an African-American girl who attended the class.
Another student Karen Baeza, 18, from Pachuca, Mexico, said it was her first time taking Aimee's class. "It's a fun class. Everyone was friendly and fun. The atmosphere was amazing," she said, and because the class offered a decent cardio workout, she plans to return.
Besides K-pop dance classes, other K-pop related organizations have been established in L.A..
Kollaboration is a non-profit organization that began in 2000. Steve Kim, the director of Kollaboration's LA Chapter, said the organization is dedicated to promoting Asian Americans' entertainment in media.
Kim said the fan base has diversified in the last few years. "It's really exciting to see K-pop grow," he said.
At the L.A. K-pop festival, about 70 percent of the audience was not Korean: up greatly from the 10 percent five years ago.
"I have seen a lot of Latin American fans," said Kim. "I think that's really promising."
K-pop fan David Kautz, founded the non-profit K-pop Dream, to help K-pop fans getting to the events.
K-pop Dream is a non-profit organization dedicated to helping K-pop fans achieve their dreams and improve the K-pop Community, said Kautz.
Kautz said K-pop culture is becoming more popular not only in LA, but all over the United States.
"When I first… became a K-pop fan a couple of years ago, it was really hard to find a K-pop event to attend and now it's everywhere," said Kautz.
Kautz said fans are connecting more with each other through the events.
"Having all these K-pop events in LA, the fans are being able to meet each other and create much more personable relationships with each other," says Kautz. "Instead of a Facebook meeting, it's an actual in person meeting."
The L.A. K-pop festival was just one of the several K-pop concerts this year in L.A.. A Korean Music Festival recently took place at the Hollywood Bowl and the Korean Convention will be held at downtown L.A. in August.