Audra Skaates has been stalked more than once in downtown Los Angeles, and one time, the man figured out where she lived.
He waited outside the door of her building all afternoon.
He got there around 4 p.m. and waited until about 9 p.m.
She opened the door to leave for work when he cornered her right outside her home, she said.
"It was really scary," said Skaates, 31.
Audra Skaates has worked in downtown for about five years and lived in the area for about three.
For Skaates, who's from the San Francisco Bay Area and lived in Long Beach, Hermosa Beach and the San Fernando Valley before settling downtown, street harassment in the area is an experience like nowhere else she's lived.
"You have to consciously think about [what you're going to wear], even with workout pants," she said. "I don't even feel comfortable wearing shorts out here."
For a fitness instructor, that poses an everyday challenge.
When she decided to open a barre studio on 6th and Main Street in the Historic Core district, the fear of harassment weighed heavily on her mind.
Street harassment is defined as any unwanted sexual words or behaviors, according to groups like Holla Back and HarassMap, who are dedicated to raising awareness about the issue.
It doesn't matter what the intent is of the person initiating the interaction. The line between a friendly interaction and street harassment is drawn when the recipient feels uncomfortable, according to these groups.
It can include anything such as ogling, cat-calls, honking, groping and sexual assault.
And it's a regular part of women's lives who live or work downtown, like Skaates.
She not only has to think of her safety, but the safety of her clients, the majority of which are female.
"There's been many nights I'll walk girls to their car," she said. "You have to tell people which street to walk on, which lot to park in, what times to get here."
Many of her clients come to the studio in sweats and change into more comfortable workout clothes when they arrive, she Skaates.
"It's a love-hate relationship downtown," she said.
The neighborhood has undergone a rapid transformation.
Downtown had been neglected for many years up until very recently.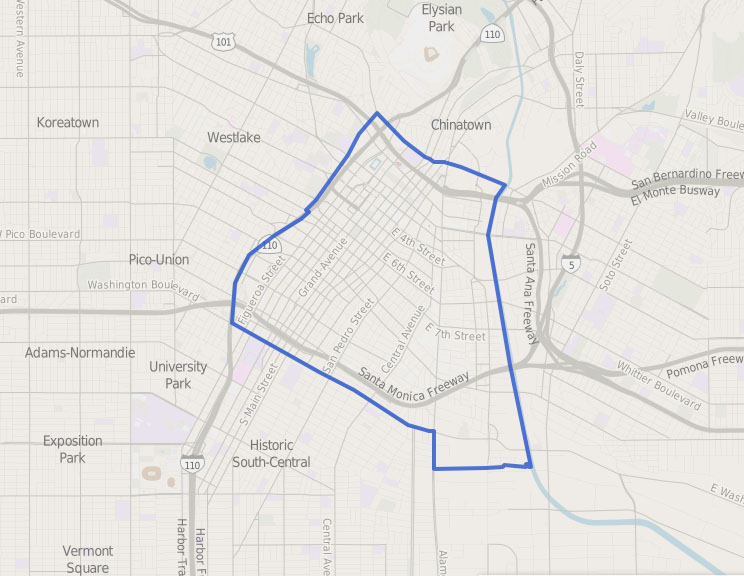 Downtown Los Angeles
In fact, just a few years ago many of the popular cafés, restaurants and bars in the area didn't exist.
And two years ago, a Starbucks opened on 6th and Spring Street, officially marking the area's shift to gentrification.
Like any neighborhood undergoing such a transformation, there's a mixture of people who were there first and people coming in after it's been deemed "trendy."
In downtown's case, that means there's still a large homeless population.
"A lot of harassment is often quite easily blamed on homelessness and connected to that situation," said Genevieve Berrick, who founded the L.A. chapter of Holla Back. "Necessarily people who live in public space contribute to experiences of all kinds in public."
But L.A.'s downtown is still different from other cities' downtown areas, according to Berrick.
Since the region is still very much in transition, people clear out at night in many areas.
"Bystander intervention decreases dramatically," said Berrick. "You get much more anxiety-filled situations for good reason. There are still people on the streets, but not enough to give you a feeling of safety."
Like Skaates with her barre studio, Gigi Jirapolchet moved to L.A. with dreams of starting her own business.
But, for Jirapolchet, her dreams involve working in the fashion industry.
Downtown is home to the city's fashion district and to the Fashion Institute of Design & Merchandising, which is why so many aspiring designers and fashion entrepreneurs, like Jirapolchet, flock to the area.
She was born in Bangkok, Thailand, and moved to Seattle at a young age before moving to downtown L.A. to study at FIDM.
She first noticed sexual harassment in high school, but recognized right away that street harassment downtown was much different.
To continue reading, click here.