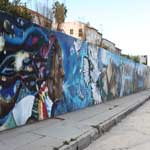 The Great Wall of Crenshaw
The Crenshaw mural has been a piece of history and African American progress since 2000. Supporters are looking to raise funds to declare the area a monument in South LA.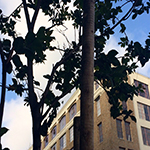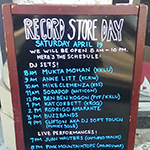 By: Shaleeka Powell
In 1997, Martines ruptured his anterior cruciate ligament (ACL), due to a knee injury while playing soccer.
He tried to block a player from passing him that resulted in him twisting his right foot and popping his right knee.
This caused him to have his ACL reconstructed at the Indianapolis Methodist hospital.
Martines decided to have the surgery because he did not want his soccer career to be over and his doctor said when he has kids it will be hard for him to pick them up and play with them, he said.
He wasn't worried about the surgery because he has a sister who had the same procedure done seven year prior to his injury due to an injury she received playing volleyball.
Her results were great and she was able to play volleyball again, which gave Martines confidence for his procedure because he went to the same orthopedic surgeon.
ACL reconstruction and the repair of a torn meniscus (structure in the knee) are the most commonly performed knee arthroscopic surgeries, according to Dr. Marc Samson, orthopedic surgeon at L.A. Orthopedics Center.
Over 600,000 arthroscopic surgeries are performed a year, according to the 2010 Orthopedic Surgery Book.
Knee arthroscopy is a minimally invasive outpatient surgical procedure, meaning the procedure takes about 30 minutes and the patient leaves the same day.
During the surgical procedure, Samson makes two tiny cuts on the patient's knee and inserts an arthroscope, a device that has a camera attached to examine the joint, according to Samson.
"Your typical patient is going to be anywhere from 18 to 40 and usually involved in some recreational activity sporting wise or may have a sports injury," Samson said.
Two years after Martines ruptured his ACL in his right knee he did the same to his left knee by also playing soccer.
This resulted in him having the same surgical procedure done to his left knee.
"I think the movement that I did led to my left knee being twisted because it was something I had to do for the play, regardless of my right knee injury," Martines said. "At that time, I thought maybe it is time I prepare myself physically to play soccer or take it a little easy on playing."
Although there are many benefits to having an arthroscopy, there are also risks. One of the risks is infection. Infections rarely happened but the patient is subject to receiving due to the cutting of their skin, according to Dr. Samson.
Another complication is blood clots caused by the patient's blood not freely moving. This can be fatal if the clot hits the leg then goes to the lung, Samson added.
A week after both of his surgeries Martines said the pain was bearable and a month later he said there was basically no pain.
He added that his legs were not strong after having surgery because the procedure caused individuals to lose muscle tone.
Individuals can regain muscle tone through continuous physical therapy.
Physical therapy is recommended before having surgery depending on how severe the injury is because the surgery may be preventable, according to Samson.
Martines goes to Larchmont Physical Therapy office to have physical therapy sessions with Dr. Jeanna Barsamian, a physical therapist.
He said he received physical therapy a day after both of his surgeries because his knees where stiff.
"Physical therapy played an immense role in the recovery of my surgeries," he said. "Physical therapy alone can help you fortify the muscles around the ligament to give you some function back, but I think you are never going to get the full function back."
Barsamian said physical therapists at Larchmont run patients through a different series of ankle and hip exercises to treat the joints above and below the leg.
"People don't realize why they need to strengthen their hip when therapy is for their knee, but the hip is the controller of the knee," she said. "The knee is what we call the dummy joint between the foot and the hip and it only does what it is told to do from above and below."
"We try to get their walking under normal mechanics and get their strength back," Barsamian added.
The exercises range from wall sits, leg lifts, side steps, squats and more.
Patients usually have sessions two to three times a week for about six months, according to Barsamian.
"Exercise, being in shape and being healthy are essential because weight affects the knees," she said. "For every 10 pounds you're over weight it is 50-60 pounds extra every step you take."
Martines is able to play soccer again, but said he doesn't play now because he doesn't have time to exercise and be in good shape.
He said he recommends the surgery to anyone with a knee related injury.