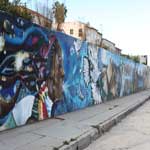 The Great Wall of Crenshaw
The Crenshaw mural has been a piece of history and African American progress since 2000. Supporters are looking to raise funds to declare the area a monument in South LA.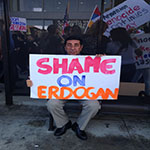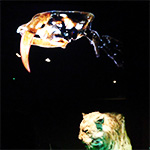 Prehistoric Puppeteer Adventures
Puppeteers at the Natural History Museum and the La Brea Museum at the Tar Pits slip into new roles as prehistoric creatures to combine the power of imagination, wonder and education.
In May 1993, one woman met up with 12 children inside a church basement in South Los Angeles. Her goal was to create a place where kids could hang out, do their homework, and watch a little TV. Now 21 years later, A Place Called Home, the non-profit organization Debra Constance created, has its own facility that provides for over 300 kids daily.
Overtime the role of the organization has expanded, no longer just a stopping place for children, but also an additional resource for the development of South L.A. youth.
Along with academic support, the youth center offers programs in athletics, dance, and music.
By giving young people these resources Jonathan Zeichner, executive director of APCH (head of operations) hopes to sway kids into becoming community leaders.
Members are 8-21 years old, and receive one-on-one assistance from APCH staff: a kind of specialized help that many students don't get in school.
For kids 14 years and older, the center has its Bridge to the Future -Teen Programs, which include educational field trips, mentoring, and internships.
Two Teen Programs unique to APCH are its Shaheen Scholarship Program and Dropout Recovery Partnership.
The Scholarship Program provides tutoring, SAT prep, university tours, college application assistance, and financial aid.
One of the students receiving help from the program is 18-year-old, high school senior Thomas Staples, who's been a member of APCH since he was seven.
Staples explained during an interview that the program provides the money for anything not covered by other scholarships or awards (He wants to attend Grand Canyon University in the spring).
According to APCH's financial records, the center gave $350,000 to its 68 college-bound members last year.
And APCH doesn't just send kids to college, it makes sure they stay and graduate.
The center has year-round coaching, where staff constantly communicate with students, look over their transcripts and teach summer intensive courses so students can remain academically on track for the following school year.
In its Dropout Recovery Program, APCH takes high school dropouts or kids that were in juvie or prison, and gives them a chance to earn a diploma or GED via a partnership with a Los Angeles Unified School District continuation high school.
According to the L.A. Times crime-mapping website, in Historic South Central, that's the neighborhood where APCH is located, nearly 75 percent of adults have less than a high school education, while the graduation rate for APCH kids is around 90 percent.
Though these stats are nothing to sneeze at, Zeichner said that graduation rates are given too much credence.
Also in South L.A. the bar is often set too low for students, sending a message of surrender and acceptance, exclaimed Zeichner; a message he hopes to eliminate with events like the Cinderella and Prince Charming Project and the Celebrity Stars and Strikes bowling and poker tournament.
For Cinderella and Prince Charming, high school seniors and juniors are given free prom dresses and suits; both equipped with shoes and other accessories. The event hopes to instill a pay-it-forward mentality, so youth show inner as well as outer beauty.
Click here to see pictures of the event
And at the Stars and Strikes event, musicians/artists raise money for APCH while bowling with members and guests. The March event raised over $100,000 this year and included celebs Hot Chelle Rae, Midnight Red and Mike Posner.
The event is designed to attract young people to fundraising as they learn more about APCH.
While all the celebrities do well to take photos with the children and show their support, Zeichner pointed out that America's Got Talent host Nick Cannon, "is a really dear friend to A Place Called Home."
Cannon calls APCH "an oasis of inspiration."
Another dear friend is volunteer Sal Gutierrez, who I spoke with at the organization's 2nd Annual Health and Garden Expo. The expo was a community event, so anyone could walk-in, get their cholesterol checked, pick-up some fruits and veggies and enjoy a little exercise.
Gutierrez said he never feels taken advantage of and always felt that he was working with, not for APCH; this idea of partnership seems to be a focal point for the organization.
Before coming to APCH, Staples who was working with Gutierrez at the event, said he had a poor attitude, but that it changed once he got used to having rules and interacting with adults, some of whom he feels are like "older brothers."
When it comes to family, APCH expects parents to be involved, offering several parent-based classes on topics like nutrition, computer science and immigration.
Though the organization's resources are free to APCH kids and parents, not everyone can become a member. Zeichner said that with the 300 kids APCH serves daily, there are at least that many more on a waiting list.
But APCH is trying to expand; recently the center acquired a warehouse that will be turned into a teen/performing arts center.
Ultimately Zeichner said APCH isn't giving kids anything they don't already have. "We're just finding a piece in them and lighting the flame so it becomes sustainable for them to draw on. Once a person dicovers that they can create something new..than anything is possible.