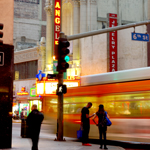 Leo Wu's Story (1): Staying or Leaving Broadway
Carlos Fejada is standing on Broadway Street in front of his wholesale store, a mainstay of downtown Los Angeles for 20 years. He's reviewed the schedule of the Pedestrian Enhancement Project of Broadway Street and he's making plans to move out of Broadway.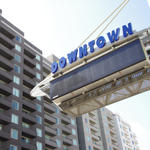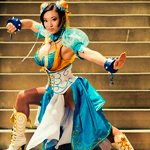 Leo Wu's Story (3): Cosplay World
If you like costumes and wigs, you don't need to wait for Halloween. Now, you have an new option, Cosplay.
Leo Wu will take you to the Cosplay world.
Andrea Segal leans back on her chair while flipping over the photos from her younger years when her life partner Barbara Roe was still alive. They dance together with a smile in their faded photos. Segal had never planned to live alone until she lost Roe a few years ago.
Bad things happened one after another, when Segal was 61 years old, after Roe passed away, their mobile house burned down. Segal had to cope up with intense grief as well as financial problems. "It was really scary, starting a new life at my age, without my other half after 36 years," Segal said.
They were not able to legally get married as gay couple. Therefore, Segal can't receive the survivor benefits from Roe's social security account, which are only provided to heterosexual couple. Besides, Segal's social security is not enough to pay for an apartment, since she lost her job 20 years ago from a serious accident. "I would end up on the streets and die somewhere, that's all I thought." Segal said.
That all changed in 2007, when Segal filed an application to Triangle Square Lesbian, Gay, Bisexual and Transgender (LGBT) Senior Affordable Apartment in Hollywood, the first gay senior friendly affordable housing project in the U.S. "This is a safe place where I can talk about my life," Segal said, she moved in Triangle Square the same year, after her application got approved, "I went a lot to come in, I have never been so happy."
Segal is not the only case, according to the National Gay and Lesbian Task Force study in 2010, there are more than 3 million LGBT seniors living in the United States, and this number is expected to nearly double by 2030. Despite the big improvement in gay rights in the U.S. during the last two decades, and that gay people are becoming to feel more acceptable by the society. While confronted with the same challenges that face all people as they age, LGBT seniors also face an array of unique barriers and inequalities that can stand in the way of a healthy and rewarding later life.
Prejudice is the first thing. "I have heard gay woman told me, she has to say her husband died, instead of her wife, in order to stay in a straight apartment without feeling uncomfortable," Segal said, their generation has fought for equality for almost their entire life. However, they have to go back into the closet, as they are getting old.
Gayle Gates is the service manager of Triangle Square apartment. Some senior residents reported to her that when they used to live in the traditional retirement apartments or nursing homes, they have to hide inside the closet, in order to fit in or avoid discrimination. "If they don't, they feel threaten of their life, or their safety. At any age, especially for seniors, when you become more fragile, it is just so unacceptable." Gates said.
Today's LGBT seniors are a whole group of people whose formative years are shaped by the stigma that it was illegal and wrong to be gay. Till now, they still have the concerns of being discriminated and rejected. "Some seniors report that they are suffering from homophobic harassment, and they are looking for a safe place to stay." Gates said.
Besides, unlike the stereotype toward LGBT people that they are more affluent than straight people. Many gay seniors are living at or near poverty. "They were unable to collect the social security of their spouses. Instead of having a $2500 dollar a month from their partner's account, they only get $800 to $900 a month. And you can't rent an apartment or live with this." Gates said, an affordable apartment is certainly a need.
In 2007, the nonprofit Gay & Lesbian Elder Housing (GLEH) and partners established Triangle Square, shortly after the great recession. "Now, at least four to five similar affordable housing around this country, there are five in the planning stage, they will be open in the next two years," Gates said, but those affordable apartments are not nearly enough to cover the amount of LGBT seniors, "We have 380 applicants on the waiting list," Gates said, the shortage of housing is a big problem.
Besides, under federal fair housing rules, which prohibit low-income housing to exclude any resident for his/her sexuality. The gay senior affordable apartments also accommodate the straight seniors and their family who are in need. Therefore, even though all the affordable apartments opened in Los Angeles, "they are even not enough just for L.A. County," Gates said. An estimated 65,000 LGBT people age 65 and older live in Los Angeles, according to the L.A. Gay & Lesbian Center.
Seventy-eight-year-old Alice Herman is another resident in Triangle Square. She moved in this apartment not only for finding an affordable housing, but also a community that can embrace her. "I would have been an old lady with two cats living in the car," Herman said, "But I got lucky, that brought me here".
Herman had been with her partner Sylvia Purdue for 45 years. After Purdue passed away, similar to Segal, Herman was left with nothing but two cats. And Purdue's hospital bills almost drained all their savings away. Moreover, they didn't have a child, which made Herman feel isolated until she found this apartment and moved in. "I found a place that I can bring my history," Herman said, "I have lived a life for 45 years with one woman, and I need to talk about that life."
About 80% of long-term care in the U.S. provided by family members, and more than two-thirds of adults who received long-term care at home depend on family members as their only source of help, according to a research released by Service and Advocacy for LGBT Elders.
By contrast, LGBT elders are less likely to get support from their family, comparing to their straight peers. And they are more likely to rely on friends, and community members as their chosen family. "Most people at my age, we didn't save enough, and most of us don't have a family for certain reasons," said Melvin Weiss, a resident in Triangle Square apartment. "But, if we need food, we need any services they provide us here. Some other residents give us ride to grocery when we need to, like a family," he said.
"We want to keep them from isolation, to keep them physically and emotionally active," Gates said. They want to offer more than an affordable housing to their residents. And, they are trying to make it become a community. "We want them to be able to live and ideally die with dignity, because of what they have gone through," Gates said.
As the first generation that launched the massive gay rights civil movement in the U.S., the gay seniors felt ignored to some extent. "When you become older, people would treat you as invisible," said Don Foley, another resident in Triangle Square, who is a senior veteran of U.S. Navy. This could happen to anyone, when youth and beauty elapsed, especially for current gay seniors, since the younger generation is less worried about their future as well as the pioneers.
The housing, financial and identity problems may ease for the younger generation of the LGBT community in the U.S., as the legalized gay marriage grants more rights to them and their partners. "We are youth centric, especially being gay as well. You kind of ostracize the older community. Because you don't want to see yourself aging," said Kristopher Patrick, a senior student from USC. "But we need to change this culture, and respect the seniors and their history, who created the opportunities and equality." Patrick added.
The L.A. Gay & Lesbian Center announced its merger with the GLEH on April 4th, in order to develop more affordable housing projects in Los Angeles. And the GLEH, in partnership with affordable housing developer AMCAL Multi-Housing Inc., will open the second gay friendly affordable apartment in Los Angeles, later this spring. The $17.5-million complex, called the Argyle, will have 39 units for both eligible low-income gay and straight seniors.
The Argyle apartment will have a swimming pool and a beautiful yard, just like the Triangle Square apartment, in where Segal likes to walk her dog, Snoopy, and enjoy the sunshine of California in the afternoon. "I am very lucky to live here", she said, and many of her fellow residents feel in the same way that they are blessed to find this place, where they still can be who they are even they are no longer young.