Lyft Driver Video
I was able to ride along with Nelson. Later on, I also met people she works with at Neighborhood House Associationand and spent some time with her and her family.
The silver Chrysler Town & Country minivan looks just like any Lyft car, with its fluffy pink mustache, driving through streets in San Diego.
When the van stopped to pick up clients at a restaurant on a Friday night, driver Vanessa Nelson turned on flashing neon lights and a silver spinning disco ball in the trunk. She opened the back passenger door and proclaimed.
"Welcome to Karaoke Mood Lyft."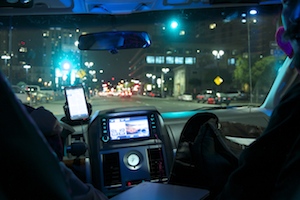 Nelson On Her Way To Pick Up Her Clients.
The two passengers Michael Ellis and Ricardo Bahena requested a Lyft ride five minutes ago with their smart phone application. Nelson got a notification from Lyft, while she was driving around downtown San Diego and waiting for a request. She was close to where Ellis and Bahena were, according to the GPS. Nelson called them to confirm the request and showed up shortly.
"Wow," Ellis and Bahena said, with their eyes wide open.
Nelson joined Lyft last July. A staff member at Lyft headquarters in San Francisco inspired her to be creative with her car.
Adding no extra fee to a Lyft ride, the idea of having a themed ride was Nelson's treat to her passengers. She wants them to have fun.
"I usually don't tell them they are about to get a Karaoke Mood Lyft, " said Nelson.
To provide a better Karaoke mood, Nelson decorated her van more than just neon lights and a disco ball. She found a pink cheetah print seat cover when she went shopping one day. She felt that this naturally matched with her theme. She would also prepare different props her riders, such as singing Justin Bieber doll and clapping hands. She even shop for new props based on events in San Diego. She just bought several colorful carnival wigs to cater the coming Comic-con.
"This is good."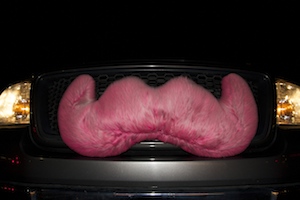 Nelson's Van At Night.
Ellis climbed into the van and looked around. He raised his voice and made a long sound of the word "good."
"I feel like we are under dressed for this," said Bahena. "I guess we have to sing."
Both Ellis and Bahena are regular Lyft customers. Ellis had taken another themed Lyft before, but a Karaoke Lyft still blew his mind.
"When I first pick them up, they don't expect to find Karaoke in my van, " said Nelson. "It's quiet surprising for them. They get really happy when they start to sing."
Weekends' nights are the busiest for Nelson because more people are going out to relax. Nelson loves to see her riders' surprised faces when she parked her van in front of them.
It was what happened to Ellis and Bahena. They were going to a friend's house after dinner. So Bahena ordered a Lyft car through his mobile application.
Founded in 2012, the San Francisco based ridesharing transportation network company has brought a mobile rides-on-demand platform in 36 cities in the U.S. Requesting a Lyft car and payment transaction are all done through Lyft mobile application. In San Diego, the price of a Lyft ride is calculated based on a combination of time and distance. According to Lyft, the cost per mile is $ 1.49 and 22 cents per minute.
Both drivers and passengers have a Lyft app in their phones. When a request is made, GPS automatically track the nearest drivers. Whoever responses the first get to pick up the clients.
Nelson remembers a lot of her passengers because they are special in their own way. Ellis and Bahena speak Spanish and they decided to sing a Spanish song after they knew that Nelson was a Latino.
"Do you know Shakira? " Nelson asked.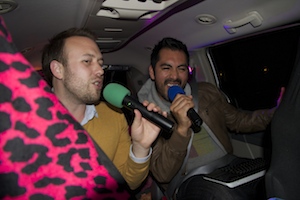 Ellis and Bahena Singing In The Van.
Nelson passed Bahena her wireless keyboard to let them pick a song.
"Yes, I know all of her songs, " said both of them.
Nelson adjusted her laptop so that Ellis and Bahena could see the screen better from the back seat.
"Can I sing along?" asked Nelson.
"Of course," Ellis and Bahena replied.
The music was on. They picked "Ciega, Sordomuda" a song from a Columbia singer Shakira Isabel Mebarak Ripol, known as Shakira.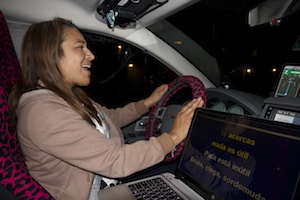 Nelson Singing Along With Ellis and Bahena.
Nelson handed them two wireless microphones, rolled her windows down and started driving.
"Se me acaba el argumento y la metodología cada vez que se aparece frente a mi tu anatomía…."
The lyrics touch on a girl's desperation in love. She was obsessed and lost control of herself when she saw her dreaming man.
"Can we drive to L.A. and then come back, " said Ellis, when Nelson dropped them off at their friend's house.
Nelson also had a great ride with Ellis and Bahena. They were her first clients that have sung a Spanish song.
"Driving Lyft is more like a social life to me," said Nelson.
Because of Lyft, Nelson has met people with various personalities. Once in a while, she would pick up quieter customers who didn't want to sing and wanted to be left alone, reading their emails or taking a nap. Nelson respects them. She would turn off her Karaoke or play some soothing music.
But most passengers love to sing. Among them, Nelson has had some crazy memories.
It was around 2 a.m. on a weekend night. Nelson got a request from a college girl. She needed a ride back to her apartment.
"It was only two blocks from her apartment," said Nelson. "When she asked me to pull over my van on the freeway because she had to pee."
Nelson remembers this girl because finding a bathroom can be a challenge for Lyft drivers.
"We even had a Facebook group message, " said Nelson. "We share information on where to find a bathroom after most businesses are closed."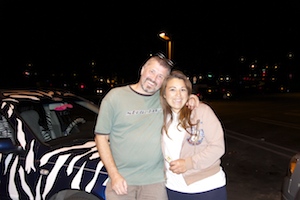 Nelson Meeting Her Lyft Driver Friend.
Lyft drivers usually get most of their requests after 9 p.m. on Fridays and Saturdays. It was 9:30 p.m. on a Friday night. This was a slow night. So she decided to stop by at her favorite café, Babycakes, on the 5th Avenue, in San Diego.
Most of the nights, before it gets too busy, Nelson would get a cup of hot medium Vietnamese coffee to go and use the bathroom. She needs caffeine to pull the all-nighter.
Besides coffee, other Lyft drivers also help Nelson to get through the night. They get together at the parking lot of CVS and Vons on Garnet Avenue and Ingraham Street in Pacific Beach, when they have a slow time.
"We talk and do something fun there," said Nelson. "We will leave the app on and leave if we get a request."
Some drivers, including Nelson, would come back after the ride to re-join the group. Even if no body were there, Nelson would still stay there before another request came.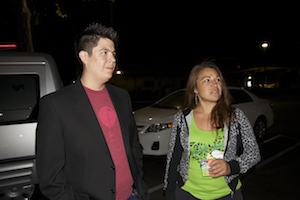 Nelson Meeting Her Lyft Driver Friend.
"It's also a way to save gas," said Nelson.
Nelson usually spends around $150 per week on gas and earns nearly $700 per week through driving Lyft.
Her Other Roles in Life
Nelson drives Lyft 10 hours everyday. But she would cut her time off if another of her jobs gets busier or if her children need her.
Nelson is a mother of 7 children, two stepdaughters, one son from her last marriage and four young children, who still live with her and age ranges from three to 11.
Nelson first thought about getting the mini van because of her younger kids and her small business, Plant Lovers Delight, a company that designs gardens. She needed a bigger vehicle to transport her plants and to drive her children around. Later, she found out that the van has another plus.
"It was a slow season for my small business, " said Nelson. "My son Joshua overheard that I needed work and he saw a Lyft ad on Facebook."
Nelson was hoping to get more gardening business, while her son misunderstood that she needed a new job.
"Me and my mom would go to downtown to pick up my brother from school, " said Joshua. "We would see mustaches and we asked them why you had mustaches. They explained to us what Lyft was."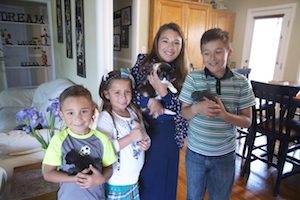 Nelson With Her Younger Kids.
| Joshua is on the right
Joshwas encouraged Nelson to apply the job. She turned her application in, got a call from Lyft a week after and became a founding Lyft driver after she passed two in-person interviews. Now there are hundreds of them in the Lyft family, as Nelson estimated.
Everyday around 6 or 7 p.m., after she has dinner with her children, Nelson hangs the pink mustache on the front grills of her van and starts her Lyft job. She usually returns home around 5 a.m. and sleeps for five hours before her children are up.
"My kids are my first priority," said Nelson. "I always plan my job around my kid's schedule."
Her children also inspired her to volunteer at Neighborhood House Association (NHA) in San Diego County.
Four years ago, Nelson sent her kids to the Head Start program at NHA. But she found it was hard to leave her kids. So she decided to be a volunteer and help NHA grow plants. In this way, she could do what she loves and still stay with her kids.
Nelson didn't have a professional training on gardening. She learned everything she knows from hands-on experience. Her grandfather used to have an orchard in Puebla, Mexico, where she visited every summer. In the orchard, her grandfather grew peach, apple, cherry and many other fruit trees. He also had an eight-acre corn farm.
Her deep involvement with NHA started in 2011 when Patrick Maldonado, Nelson's oldest son from her last marriage, left home for the army. Nelson felt overwhelmed to be left at home with her four younger kids with no help from her older children. She was also having marital problems and would decide to get a divorce.
She volunteering at NHA helped re-build her confidence. She enjoyed teaching young kids how to grow plants.
"I became more assertive," said Nelson.
Nelson is a board member at NHA. She also helps design gardens for schools in San Diego County.
"I have a green thumb, " said Nelson.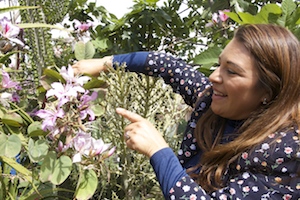 Nelson Working in Her Backyard.
At her free time, Nelson loves to spend time with her children in their backyard, where she grows vegetables, fruits and flowers. She also raises livestock - chicken, edible fish and rabbits. Her one-acre backyard supplies food for her family. She said that she was more comfortable with the quality of food she grew. She still goes to the grocery store for milk and bread.
"At my home, we are self-sustained, " said Nelson. "I want my kids to have the best food."
Standing in her backward, Nelson picked two ripe fruit from cactus. She waved to her two youngest boys, who were chasing after each other.
"Come and try this," Nelson said.
She checked the time. It was 3:30 p.m. She was ready for a nap before her night Lyft shift.